Our SEND team
Introduction
Many children need additional support for their learning at some point in their school life. Much additional support is provided in class by teachers and teaching assistants, by personalising learning for pupils in their care. Some pupils have needs that require more support, which is termed under the umbrella Special educational Needs and Disabilities (SEND). Legally, schools and academies must make 'reasonable provision' to ensure their pupils have the best support in place to meet their needs.
At the Academy, we have assembled a specialised team who are trained to identify additional needs and ensure provision for them. In order to make the best provision, decisions are made in collaboration with parents and children. Dialogue between the academy and the family is always the first stage of setting up additional provision.
If parents are concerned about any aspect of their child's education, they are most welcome to get in touch, meet members of the SEND team, and discuss concerns and options for their child.
The SEND Team
Responsibility for meeting the needs of pupils with a SEND is for all staff. However, the academy has trained staff in specific areas of SEND to best support our pupils. Together these form the Inclusion and Wellbeing Team.
| | | |
| --- | --- | --- |
| Practitioner | Staff members | Responsibilities |
| SENDCo Foundation Stage & Key Stage 1 | Miss H Smith | Leading SEND provision in lower school |
| SENDCo Key Stage 2 | Miss Rushworth | Leading SEND provision in upper school |
| Pastoral Manager | Mrs Julie Willett | Supporting vulnerable families |
| TA (teaching assistant) for motor control development | Mrs Ally Lawton | Providing motor control programmes of support |
SEND Policy
Please click on the link below to download our SEND policy
Identification of SEND
Class teachers and parents are most likely to be aware of potential additional needs first, and initial concerns may come from either or both of these. This may take the form of an informal conversation, or a meeting where the parents, teacher and – if appropriate - the child discuss SEND together.
When a pupil joins the Academy, teaching staff undertake initial observations and assessments when the pupil joins the academy. Resultant data is compared to age expectations and pupils outside these expectations are flagged for further investigation. This information forms the basis for identifying any additional needs.
Once a pupil is identified as having an additional need, the teacher first establishes whether the pupil's need can be met by 'wave one teaching' i.e., good quality teaching in class with the pupil's peers.
If the pupil's needs cannot be not met by quality wave one teaching provision, the teacher may evaluate the suitability of an Intervention Support Programme. This is usually the choice for specific learning needs, such as a phonics support programme for reception pupils who are not picking up phonics sounds at the rate of their peers. The academy runs a number of Intervention Support Programmes in key areas, including phonics, reading, number, writing, speaking and listening, motor control and social skills. They are generally run by teaching assistants, and are flexible in order to work at the level of learning needs of the pupil.
If the SEND requires external agency involvement, or the needs are complex, a My Support Plan is set up. This document outlines all the stakeholders' comments, and there is an emphasis on collaboration between the academy and the parents to identify the needs and provision for the child.
Some SEND require specialist support not available at the academy. In these cases, external agency referrals are made, under the direction of the Inclusion and Wellbeing Team.
The academy has a significant number of speech and language therapy support referrals in each year. To better accommodate for this need, the academy has funded a speech and language therapist to work in school, and trained a HLTA to deliver speech and language programmes in-house.
Relevant staff then set up and ensure provision of appropriate additional support for the pupil. This is then monitored using a 4-part cycle 'Graduated Approach', comprising assess, plan, do, review.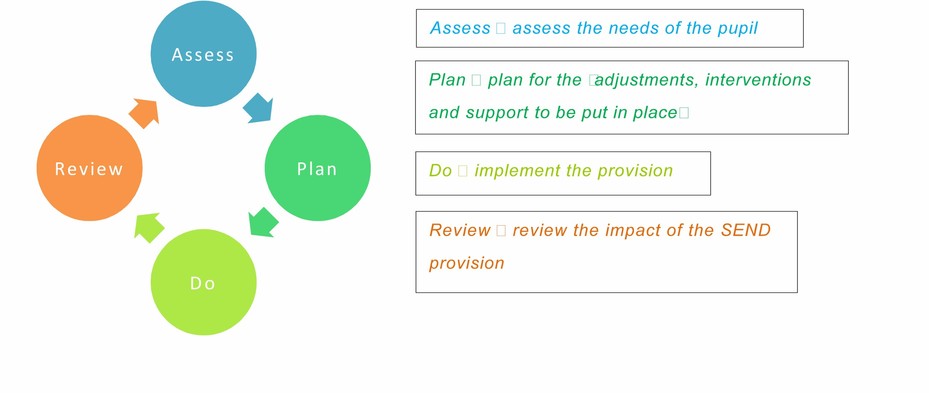 This way, pupils' support is adapted as needed, with the ultimate aim of enabling pupils to match their peers and not need SEND provision any more.
If the Graduated Approach of 'assess, plan, do review' does not enable a school to meet a pupil's needs, an Educational Health and Care Plan (EHCP) request is made. This request is made to the local authority, which then has responsibility for deciding whether an EHC needs assessment will be made and subsequently whether an EHCP will be created.
The Kirklees Local Offer
Local authorities must provide access to external agencies offering support for pupils with SEND. Many of the external agencies which support our pupils are part of the Kirklees Local Offer. Details can be accessed via https://www.kirklees.gov.uk
Parents and carers may also find support at http://www.kias.org.uk/sen-disability/parents-carers/
The John Curwen Co-operative Primary Academy- Special Education Needs and Disability Information Report
Our Local Offer 2018 -2019
What to expect if you think your child may have a SEND
First – please get in touch. Parents with concerns, questions or worries are always welcome to come and chat with a member of the team. Please speak to your child's teacher or ask at the office.
We realise that it can be daunting to talk about a child having additional or differing needs, but please be aware that you are not alone. Your child is important to us and we will do our best to meet their needs with sensitivity and a determination to do what is right for them.
We make decisions in collaboration with families, within the remit of 'making reasonable adjustments' for children.
Monitoring the effectiveness of the SEND provision
The Inclusion and Wellbeing Team are under the responsibility of the Headteacher and Deputy Headteacher. The academy also has a Governor with specific responsibility for SEND. Monitoring of the work and effectiveness of the Team is ongoing.